One of the things that my husband and I struggled with the most with having a child was putting her into daycare. We did the math and found it would be much smarter to put her into daycare than to have one of us stay home. I did a lot of research on daycare centers in our area and found there is only so much you can learn by going to a center and having a formal tour. During my search, I learned what I wanted to ask as I went through the tour. Two main things stuck out for me:
Safety. How safe will my child be in this center? Will I be comfortable leaving her there every day and knowing that she will come home safely to me every night?
A comfort level with the teachers. I needed to feel that the teachers in the infant room were treating my daughter like I would treat her. I needed to feel like she wasn't just another child, that she was well cared for and loved

We also needed to be able to afford it. Daycare centers in our area run anywhere from $230/week to $360/week. We needed to be on the lower end of that.
My husband and I picked Baby Hop's daycare in January of last year (6 months before she was born). We both visited the facility and we both felt very good about it. After she started there, I became anxious and wished I had her closer to me at work. I wanted to be able to go by and see her if I wanted to. I wanted the option to feed her on my lunch break.
I started looking at daycare centers out near my office in the RTP area. I found one out here that happened to be right across the street from my work. I visited one day and was very impressed by the security of the building and the cleanliness of the facility. They had a super secure facility and webcams so you can peek in on your child if you want to, throughout the day. The infant room made me smile. The two teachers in the room at the time had each been working there for over 4 years. This particular daycare center has a 1:3 teacher to student ratio and there were 6 children in the room. The babies in the room all seemed very happy and I was pleased with the infant room in general. I asked the ladies what they do if they get overwhelmed and babies start crying and they told me that they push a button and buzz in anyone who is available.
By the way, if you can believe it, state law for infant rooms is 1:5. One teacher for FIVE babies!!!
Even though this daycare was $100 more per week than her current one, I made the decision to let our daycare center know that we would be moving Baby Hop out and put a deposit down to hold her spot at the daycare across the street from work. Two weeks before she was supposed to start, Hops and I went to a "meet and greet" at the daycare center. The meet and greet was scheduled with the owner/director of the facility. When we arrived, there appeared to be some confusion on who we were meeting with - the owner wasn't in that day. We ended up being shuffled into the infant room and told to ask any questions we may have. My first question was, "Where did all of these cribs come from??" When I visited the daycare a month earlier, there were 6 cribs in the room. Now there were 9. There were 2 teachers in the room and 7 babies (1:3 ratio?) Four of the babies were crying. One teacher was heating up food, one teacher was sitting in a chair, feeding a bottle to one baby and kicking a bouncy chair with another baby in it with the other hand. They were both ignoring the crying babies. I asked them if they needed any help and they said no, it was under control. We stayed in that room for about 20 minutes and never did I see a sign of caring for the children. The teachers were there to do a job, not because they like babies. It was painful and my heart hurt thinking about Baby Hop in that environment.
I noticed that there were cribs in the adjoining room so, I asked about those. I was told that they had decided to expand and they now have an infant room and an "older infant" room. So, in the month since I had seen the place, they had expanded. By a lot. I should also mention I didn't recognize either of the teachers in the room. I asked them how long they had been there and they had both just started recently. I was pretty upset at this point so, I decided we were done. We went out into the lobby and were ushered into the office to meet with one of the co-directors (still not the owner). I asked her when the changes occurred and why there were only 2 teachers and 7 babies. She told me that it was a transition period and normally parents are coming at this time of day to pick up their kids. At this point, I started crying. I told her I was extremely upset at how they had changed things from how they were in just a month and didn't feel comfortable with the way things were now. She looked at my husband and me and said, "Oh, I know how you feel. I have left my babies at daycare before and it's hard. It'll get easier." She didn't listen to a word I said. Right before she said this, I told her Baby Hop was already at another facility I thanked her and told her we would be in touch. My husband and I had driven separately so I called him on our way home. I was distraught. I couldn't believe how this place that seemed so wonderful had turned so ... I don't know. There is no single word to describe it. 'Technologically advanced while lacking real human compassion' would be the long way to put it.
I had a long talk with Hops when we got home and he left the decision up to me. The next morning, I went back to the daycare where Baby Hop currently was and practically begged to see if there was any way we could keep her there. The director had already opened and filled her spot so, we had to wait and see. She called me later that day to tell me that yes, she would be able to fit Baby Hop back in, one of the boys was ready to move up a room and his parents were okay with it! I was thrilled. I think I cried again...
Baby Hop has been at her current daycare for 4 months now. Other than being sick all the time, she is thriving there. There are 6 teachers who rotate in and out, 3 of which are the primary care givers. I have never seen less than a 1:3 (most of the time it is a 1:2) teacher : student ratio. The teachers and director there have loved on her and I can tell they really care for these babies. They don't just come to work every day to get a paycheck. They come to work to care for babies. That makes all the difference in the world.
This daycare may not be high tech, they may not have the latest gadgets and super secret codes to get in the door but it's a loving environment. The teachers LOVE the children. The director LOVES kids. I couldn't imagine a better fit for our daughter right now. I'm not saying it's EASY to leave her every day and to go to work. I'm saying this place makes it easier to go to work and leave her behind because she's in loving arms. It is still so, so hard to drop her off every day.
While the fancy daycare center shines bright, I am so glad that we ended up where we are. It may not be perfect forever but while she's a baby? It is the right fit.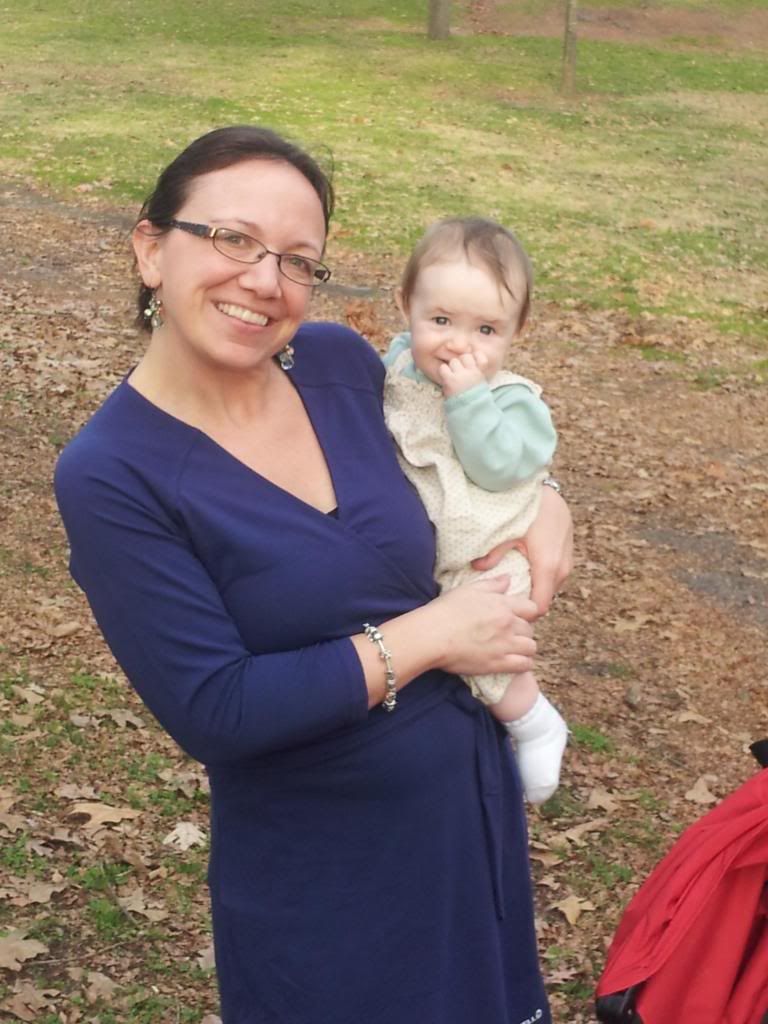 This face? Not easy to say goodbye to 5 mornings a week.