December 11, 2012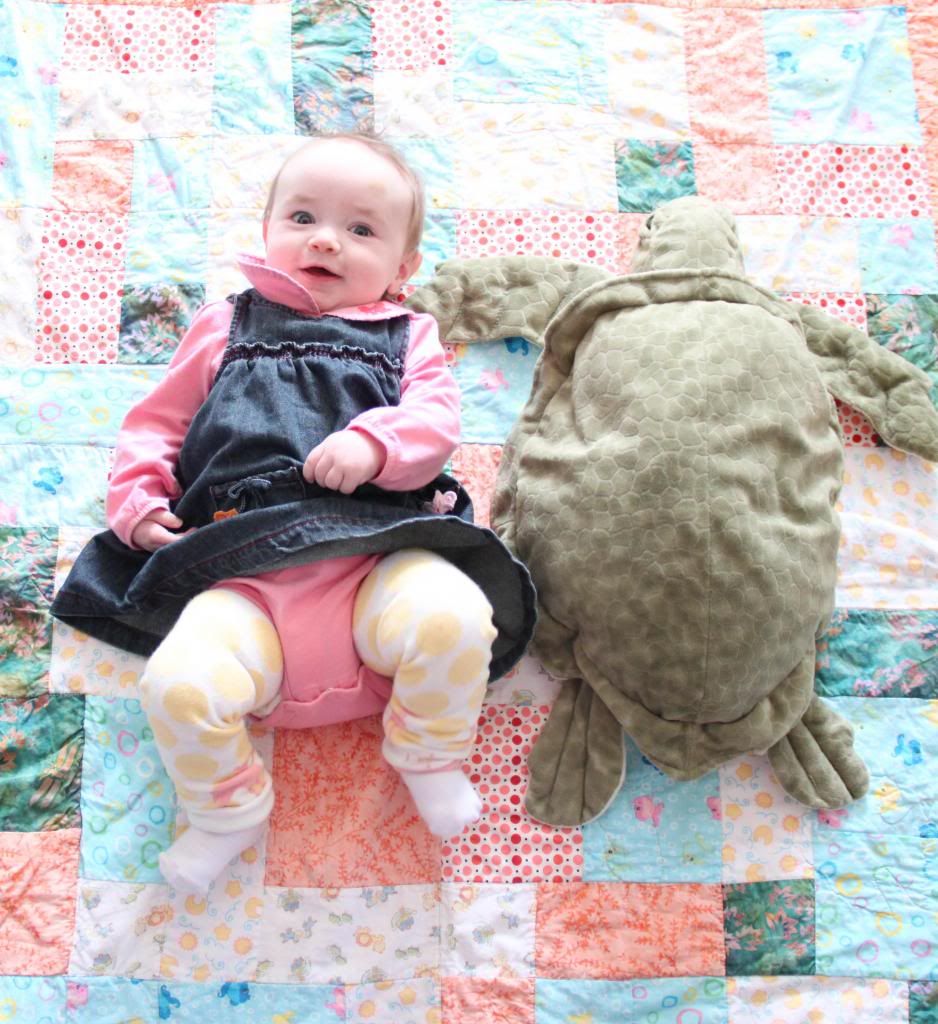 6 month fun!
I'm playing catch-up and will post Baby Hop's 5, 6 and 7 month updates Monday - Wednesday this week!
Happy half birthday, little girl! Phew, November and December just flew by for us! We fell into a good little rhythm that was only interrupted by more colds and one big surprise - teeth! You had bad cold symptoms for a couple of nights and had the hardest time sleeping, you were back to waking every 2 hours and demanding to be fed when you woke up. We were so sad for you but, then we found out why! You had one tooth pop out on a Sunday and by the next weekend, you had two bottom teeth. Those buggers are sharp, too! I only found them because you jammed my fingers into your mouth Sunday morning and I felt something sharp. I yelled for your Dad and as much as you hated it, I pulled down your lip to show him your shiny new friend. You seem to catch a new cold every other week now. It's sad but I really can't remember the last time when we were all healthy. I'm so sorry you're getting sick all the time (from daycare) but I hear getting sick now is great for your immune system and in another few months, you should stop catching as many colds. Fingers crossed that's true!
You absolutely love the dogs. They make you laugh and happy scream when they come near you. Clover has been really patient letting you grab her ears and her fur. Thumper just wants to bounce all over you, so we have to be careful with her around you right now. I'm looking forward to when you can go to them! Big milestones this month other than teeth? You're sitting unassisted for long periods of time and can reach for toys while you're sitting there. Sometimes you topple, but that is all part of the learning game. You are a strong girl already!!
You are showing more and more of your personality as the days go on. You definitely are a happy girl. There is nothing better than coming into your room in the morning and seeing you grin at me when I kneel down next to your crib.
Weight: 16lbs 7oz. You are still in some 3-6 month clothes, but you are mostly into just 6 month things now. I think you'll be out of 6 month clothes soon!
Feedings: You're eating well and are still exclusively breastfeeding/having milk at daycare. I am pumping at work which is a BIG pain in the rear end but it is so worth it in the end. I think I would like to continue to breastfeed until you're 1. Then we'll see where we are and talk about weaning. For now, it's enjoyable and there is no reason to stop anytime soon.
Health: Same as always - sick, sick, sick. You have a few healthy days and then get sick again...what can we do? You have to go to daycare so, sigh. We'll just hope you can start handling these colds a little better soon.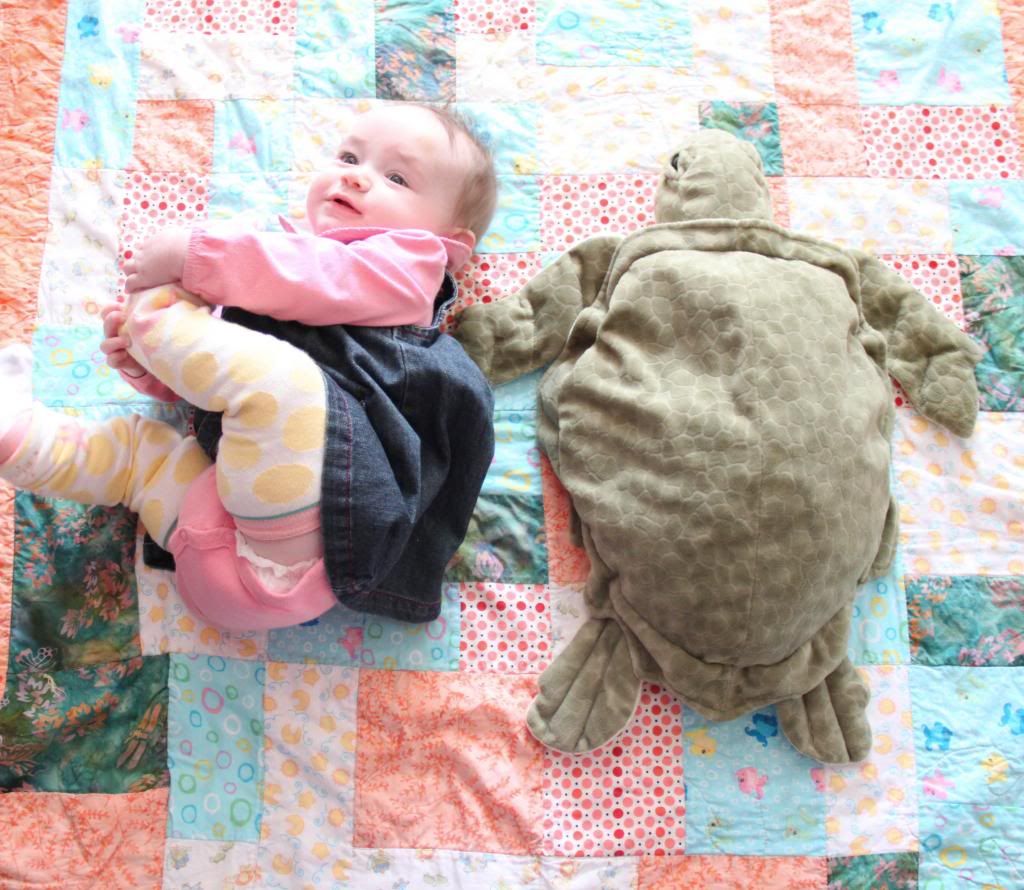 Daycare: They absolutely love you. Every day, someone there tells me what a good baby you are. I don't know if you are just better than the hundreds of other babies they have seen or they just really like you. Or maybe we really are just very, very lucky? I mean, we don't seem to have it too hard with you....what do we know, we have never done this before! We'll go with "good baby" and be very, very happy about that.
Sleep: Still going to bed by 7, still waking up 2-4x/night. It's okay. Your naps are still 30 minute dingers. We would like you to work on the length of those, please. Please. Thank you!
Likes: Everything. You smile at EVERYTHING. You love people and toys and music. You love it when we sing to you and dance with you. You will let anyone hold you and love being held. I think you would let us snuggle you all day long if we could.
Dislikes: The carseat. You hate being strapped in! I think you want to sit up and see everything that is going on so, you're fighting the carseat these days. We're going to try the convertible seat that is in your Daddy's car soon and see if that helps.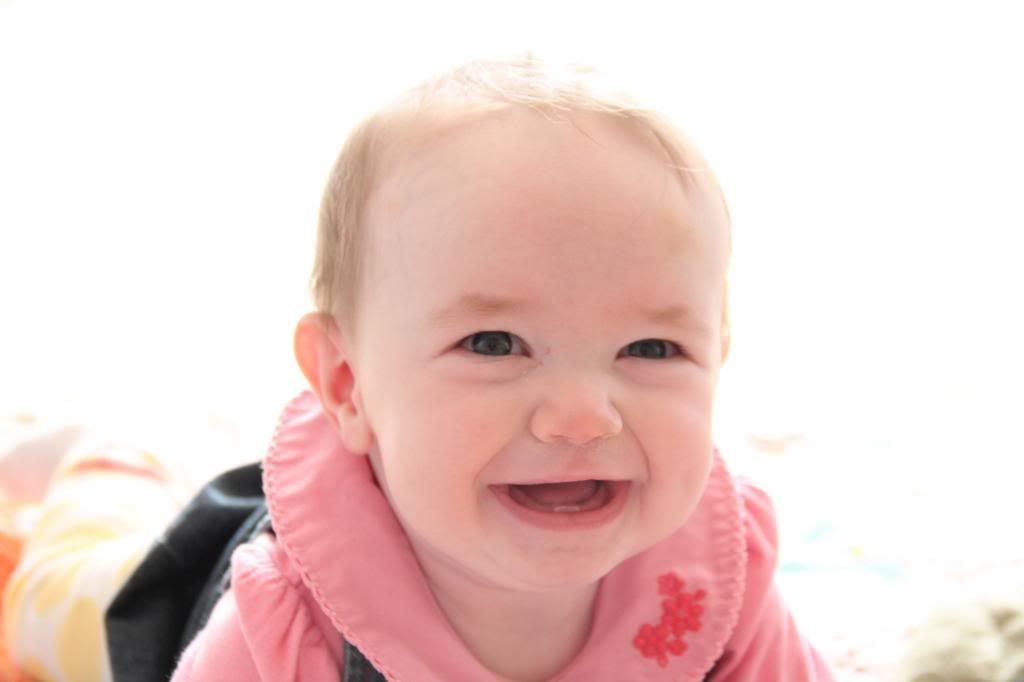 6 month close-up
You smile at us all the time. It is just the best feeling in the world to have you smile at us.