November 11, 2012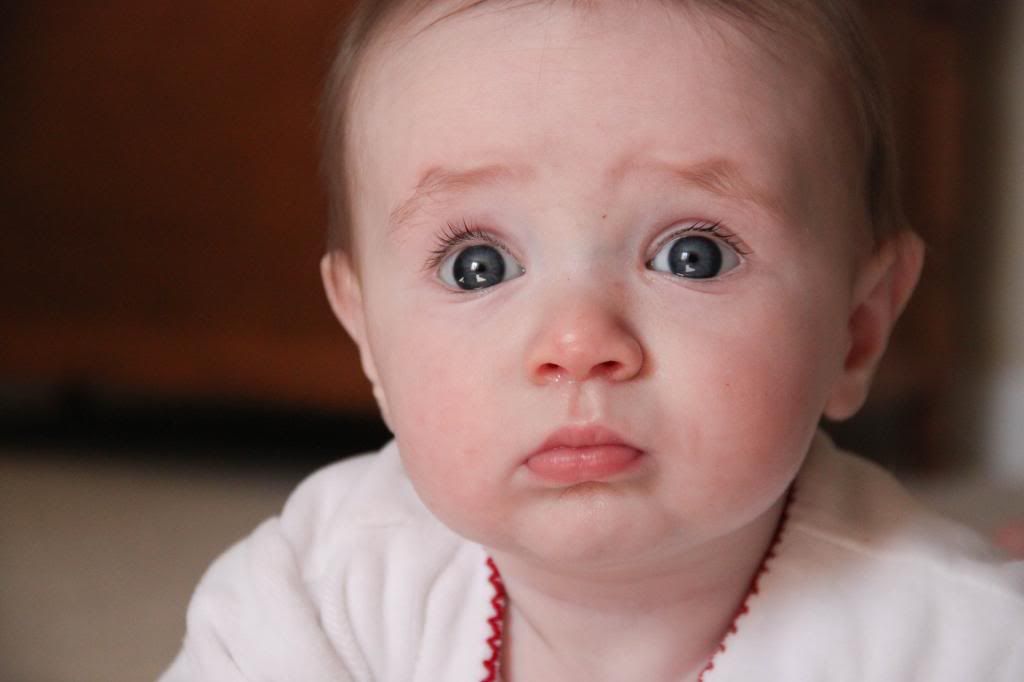 I'm playing catch-up and will post Baby Hop's 5, 6 and 7 month updates Monday - Wednesday this week!
Five months old! You're one month away from half a year old. I don't believe it. This month, you grew a lot physically. You're sitting up assisted and for a few seconds unassisted. You got your "I can roll over" award at daycare because you're rolling rolling back to belly and back now! We did a lot this month. We went to the State Fair and to a pumpkin patch. We made you sit in the pumpkin patch with a bunch of itchy roots but you did great. You hung in there for your crazy parents.
We had your Baptism this month and you got to meet your god parents (our best friends) and your Aunt Beth. We hope you get to meet the rest of your extended family soon. We also went up to Ohio to see your Mommy's cousin Alyssa get married. That was a long car ride, but you did wonderfully. We stopped every 3 hours for you to eat and you played in your seat when you weren't sleeping. I really think this was the perfect month to go on a long car ride with you.
Weight: Not sure, no doctor's appointment this month. You're in 3-6 and 6 month clothes!
Feedings: You're eating pretty well. You get 3 5oz bottles at daycare and nurse at home. You are becoming a faster eater! You aren't hanging out all day anymore, now you have become much more efficient. You're not spitting up as much anymore, which we are very happy about (less laundry!!)
Daycare and Health: (Why not combine these since daycare is the reason for all of your colds...) You really have not been healthy since starting daycare. It makes us pretty sad to see you so miserable and we hate making you mad by cleaning out your nose. You had your first big fever this month and a scary cough (which gave us a visit to the urgent care at 8pm on a Monday night). You were fine but I was worried since since I had never heard a cough like that before!! I'm sorry we have to make you so upset and I'm sorry we can't keep you at home. :( Other than being sick all the time, we love your daycare. The ladies there are amazing. They love you so much. We know you have been loved on all day when you come home smelling like the director's perfume!!
Likes: bouncing, Sophie the Giraffe, crinkly books, seeing yourself in the mirror, baths with mommy.
Dislikes: getting out of the bath, being hungry or tired.