I was prompted to finally write this post I had in drafts for a few weeks after seeing
The Culinary Couple
post theirs.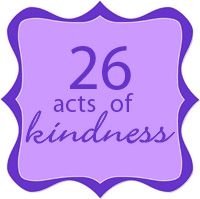 Picture courtesy of The Culinary Couple
My purpose in doing this is to make someone smile. I have already started and have completed 2 acts of kindness. Slowly but surely, I will follow through on all 26. It's for the kids. It's for the teachers and the principal. It's for the families left behind who have no answers. It's for the family of the person who caused it. It's for our communities and schools who are trying to figure out what we need to do to make a better life for our children and make sure something like this doesn't happen again.
Make someone smile today. Buy someone's coffee. Send someone a card. Give a friend a call. Call your Grandma, just to say hi. Make something for a friend or a neighbor. Do something nice for a stranger you pass on the street. Say hi. Smile. This is the easiest task I have ever given myself. What do you say?