This is Clover: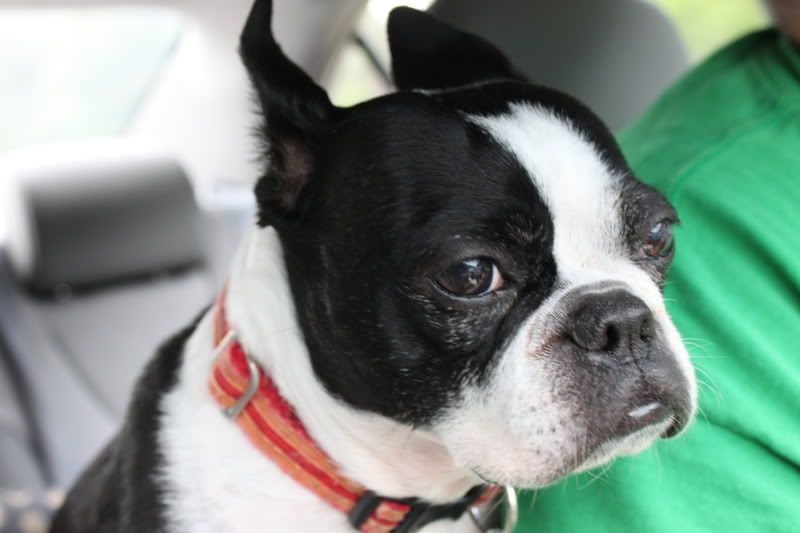 This is Clover's crate:
About the crate: Constructed to be the Alcatraz of pet cages, the 3/4" frame is forged from 20-guage steel and reinforced by 1/2" diameter steel tubes for the strongest, sturdiest, most durable crate/cage on the market. - Link
We adopted Clover from the Durham Animal Shelter with very little knowledge about her. All we knew was she seemed very sweet, loved attention from humans and was missing some fur on her back. We could deal with the fur issues, so we decided to take her home with us. We soon found out that we had some serious problems. We tried leaving her in a room with linoleum in it but she would go to the bathroom in the room. We finally bought a crate and put her in that. She would
escape
from the normal wire dog crate. Our little 18lb dog apparently did not like to be left alone and also did not like to be crated. We soon found out that not only was she escaping from the crate, she was going to the bathroom in it, as well! No matter what we read about or talked to professionals about, we couldn't figure out what was going on. Finally, we decided to purchase Alcatraz (see above picture). This is a crate that is made specifically for bully breeds who tend to escape or chew threw smaller crates. They can't chew through this baby.
It's an eyesore, I know. Bonus, we don't have another room in our house where it can go other than our family room. The room where we spend most of our time. I'll get back to that. We got Clover this crate and no, she can't escape from it. That's the good news. The bad news is it is obviously uncomfortable with the bars on the bottom but they're there for a reason....she still pees in her crate. Yay, I love troubled animals!! So, for the past 4 years or so since we got this crate, we have been lining the bottom with newspaper and cleaning it out every.single.day. Talk about a pain, huh? Well, unfortunately peeing in her crate is not where this ends. She also has issues (the separation anxiety thing) where she will pee in the house if she is left alone downstairs, while we're upstairs, mind you, for more than 2 hours. She will also do the other thing. Our carpet in our family room has been steam cleaned at least 50 times now. We purchased our own steam cleaner because we had to clean it so often.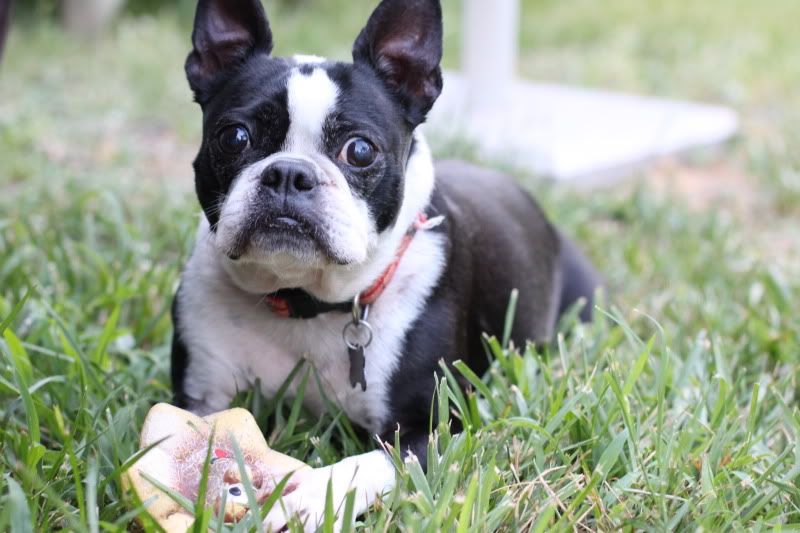 She really does look sufficiently crazy here...
I decided there is absolutely no way I can handle a crazy, peeing and pooping in the house and crate dog with an infant on the way. We discussed it together and decided to spend the money to take her into the vet to get checked out and to see if we could take drastic measures. Pills.
I took her to the vet 2 weekends ago and the vet, after hearing everything I told her, decided to go for it. She prescribed Clover what I like to call "Doggie Prozak." The pill is called Reconcile and it is taken once a day. It is FREAKING EXPENSIVE but ... if my carpets are going to stay clean and my house isn't going to smell like dog pee....let's do it. She gets one pill a day (at $2/pill). Currently she is on the name brand stuff but we'll be switching to the generic brand if this works.
Guess what?
Two weeks have gone by. She peed in her crate just a couple of times the first week and 0, count them ZERO times this week. She has done nothing in the house. It also looks like the pills may be helping her with figuring out she has to let us know that she has to go out. She now runs to the door when she has to pee or poop.
OH MY. Why we didn't think to put her on meds years ago, I will never know but if it helps? We will somehow find the money to buy her these pills each and every month.
I can't believe I just said that.
So, this means....we may actually be able to disassemble Alcatraz and possibly find a new home for it! We are going to keep her on the pills and in Alcatraz for 2 months. If she continues on this path, we get to put her in a normal dog crate!! Excuse me while I dance a jig in my clean, non-stinky family room! A room that will soon be de-uglified!! Woohoo!! It will be so nice to have the baby here and not have to worry about Clover peeing in the family room if I am upstairs with the baby. Drugs work, people. Drugs work.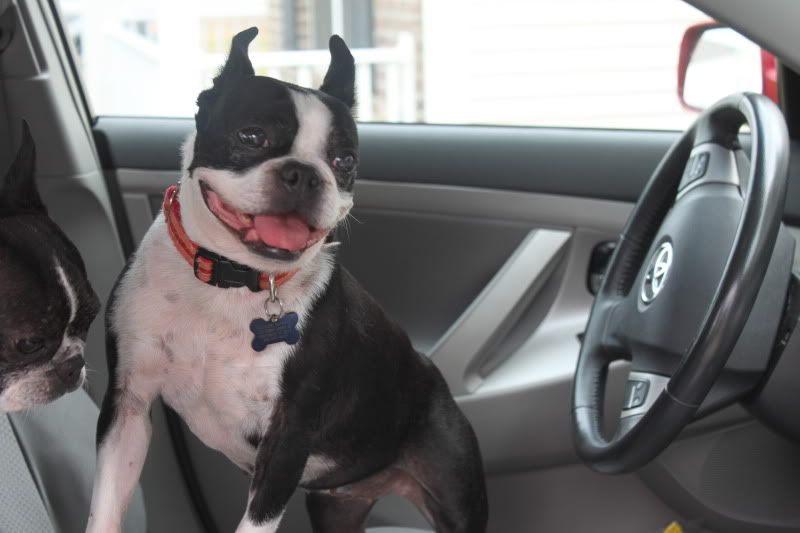 Happy Dog = Happy Owners!
(photo bomb by Thumper)