I came into work early today just so I could get on my computer and finish this post. I'm having trouble with my computer at home, so I'm using my work laptop for now. I just hate dragging it home when I don't have to.
It's amazing how quickly time can go by without realizing it. Two weeks ago was a super busy week at work, which included interviewing a new employee for a position at our company. He took the job and started this week. Last week I was in Lansing, Michigan all week for work and that took a lot out of me. I was exhausted at the end of every day and by the time I got home, my ankles were so swollen that I couldn't walk properly. I had to shove my sausage feet into my shoes at the end of the flight to just get off the plane. Thankfully my luggage came quickly and I was able to find my flip flops to slip those on. The only problem? Now those don't fit either. Gah! Note: side effects of pregnancy may be different than those you read about in books. In my case, this means swollen feet and ankles even when I'm not traveling. Yay! I've moved from wearing my beloved Rainbow flip flops to wearing what I like to call "Jesus" sandals. They're wide enough that my feet still fit into them. For now.
I've been reading and listening to books a bunch. I have a bone to pick with one narrator of audio books I picked up at the library recently, though. I tried listening to Break No Bones by Kathy Reichs. The story was pretty good for something I could listen to on my commute. Wasn't the best book ever, but it was decent. The problem I had with this book was that I could hear the narrator's mouth noises. When the character got excited, she would get excited and I would hear her gulping or making other unnecessary mouth noises. These drove me so bonkers that I stopped listening to the book during the second to last disc. Honestly, had it been a better story, I would probably have suffered through the smacking, but it wasn't worth it to me. I had two other audio books I had picked up at the same time and decided I would move on. I inserted disc 1 of Catering to Nobody by Diane Mott Davidson. It started off great - a male voice did the introduction and title information. Then.....MOUTH SMACKER started talking!! Seriously, how is it even possible that I picked up two books by different authors with the same narrator on one trip to the library? I was so disappointed. I've noted that narrator's name and will never pick up another audio book that she reads again. Thankfully, the third book I had in the car was a Nicholas Sparks audio book - The Lucky One. I hadn't read it yet but I have listened to his books before and they are easy books to listen to. I put that in my cd slot and tried to simmer down from my frustration over the earlier narrator.
It's the little things.
Yesterday I woke up somewhere in the 4am hour. This is something fun (or not) that I have found about pregnancy. About 3 or 4 times a week, my body will wake me up way earlier than I need to be up and not let me go back to sleep. I laid there yesterday staring at the window, trying to figure out what time it was. I don't have a clock on my bedside table and I didn't want to turn on my phone and get distracted if it was super early. From the look of the light coming in the window, it could have been late 5am. I was wrong. I haven't been up that early since daylight saving time occurred. I finally turned on my phone and it was 4:45am. There was no going back to sleep then, so I played a little Draw Something (ps...if you play, start a game with me. I'm Hops77), caught up on Google Reader and scrolled through Twitter and Facebook from the night before. At 5:30, I was starving. I got up and took the dogs out. I poured my cereal and Hops came downstairs - he leaves at 6am every day. He took one look at me and said, "What are you doing??" I said, "Eating breakfast, I was staaaarving." He laughed and laughed and gave me a love-pat on the head. I think he gets a kick out of the little changes he has seen in me with pregnancy. When not pregnant, hungry or not, there is no way I'm getting out of bed before 6:15am.
Oh! On a house note, we've been busy. We cleaned out the loft area of the upstairs. If you'll remember, this was the before shot of the loft:
This is the After shot of the loft. Also note the amazing difference in color when taking a picture with an overhead light on in the early morning hours versus taking a picture with natural mid-day light!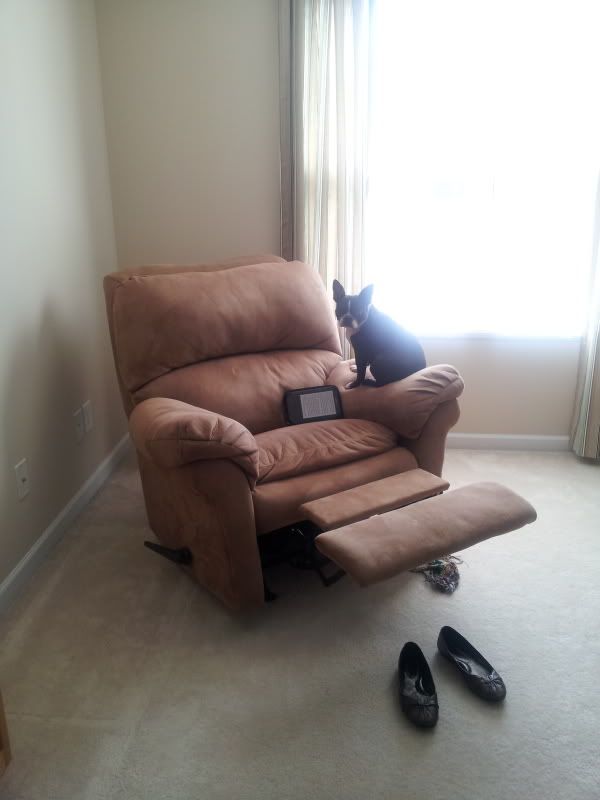 We received more baby clothes. Apparently people have a lot of 0-6 months clothes that are in perfect shape that they want to give away to friends. I decided to get one of these hanging clothing organizers instead of a dresser for now for the nursery. Check out all of those baby clothes!! Everything in that organizer is 0-9 months. We only bought a few of them and that was at the consignment sale a few months back. I don't think our little girl will have to re-wear anything in her closet, what do you think? I have to admit, those tiny clothes are SO hard to resist!!
This past weekend, we made it a weekend of outdoor work. We went to some shed companies to get an idea of what type we want. We finally, after waffling for about a year, decided on the look and style we want for our shed. It looks like this. The trim and walls will be painted the same colors as our house's trim and walls:
We also did some work in the yard. When Hops' parents were in town a month or so ago, his Mom and he dug out some beds for the front yard. The grass we have here in North Carolina is horrible. It doesn't grow. Wait, let's back up. OUR grass is horrible. If you buy the really, really expensive Zoisa grass, it grows just fine. We don't have the money for that, so instead we dug a bunch of it out and added a few new beds. I actually think they're going to make the house look a whole lot better. We put some ground cover in them for now and still have to decide what to put on the far side of the house where the lone utility pole is, we haven't planted anything in there yet:
(cell phone photos)
So, that's really it. I'm still pregnant. 28 weeks now. I'm feeling a lot better this week. The past few weeks have been rough with groin pain. That was really bad. It hurt to move my legs at any time of day. Drinking plenty of water did not help either. It seems like that has calmed down...for now. Woohoo! I'm actually pretty happy with my belly right now. Yes, I've gained a lot of weight and no, I'm not going to discuss that. I will say that I have cut back on my ice cream indulgences, which makes me sad. I go back for another appointment tomorrow, so we'll see where I am with my weight then. Perhaps this weekend I'll take another bump photo for you. :)