September 11, 2012
You're 3 months old today. We are so lucky to have you in our lives. You are
such
a good baby, we are told this over and over by friends and family and we know it, too. This past month was huge for you. You started chattering at us and now you love finding that little gurgly voice in the back of your throat. You went on your first flight this month and you met your paternal Grandparents! You're getting so strong, you can hold your head up by yourself when we carry you around now. You can also push yourself up on your hands so your entire chest is off the ground. We have seen you roll from your belly to your back a few times and we clap and cheer each time it happens. We just love watching you grow!
Weight
(as of September 19th): 12lbs, 6oz.
(All images are un-edited because this post was late enough as it is)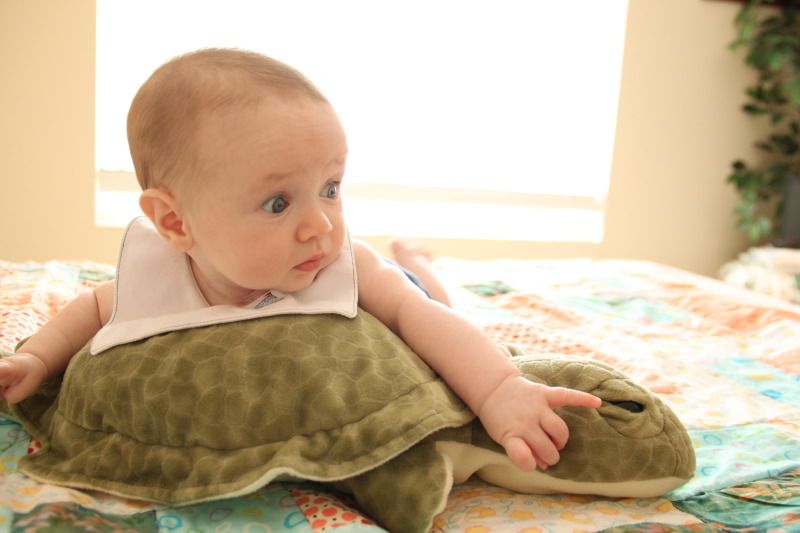 Feedings:
We have really started to understand each other a little better over the past month and a half when it comes to feedings. I used to pump a LOT because nursing her just wasn't enjoyable for either of us. I went to EPing (exclusively pumping) for a while. It wasn't that bad but I hated being tied to the pump at all hours, including overnight. When we found out we were going to head to Pensacola, I decided to add some nursing sessions back in. While they're still not perfect, we're still working on it. Now with me at work, she gets bottles while I'm away and whenever she needs to eat and I'm home, we nurse. It is a very satisfying thing knowing you can feed your child from what your body produces. Look at her weight gain above, we certainly know she's getting enough now! She eats about 5oz in every bottle she gets and that is about what I get at each pump session so, it works out well.
Health:
She has been in perfect health since she started gaining weight back. She spits up a lot but that's not a medical problem, it's just a laundry problem. She also seems to have some signs of reflux. I took her to the pediatrician who agreed, signs point to reflux. We got her some baby Zantac and have started her on that. I haven't seen any big changes so far but hopefully it helps her, if she is in pain and not just generally fussy on the breast. She also has a lot of gas. A.Lot.Of.Gas. You would think she was an old man the way she toots the day away. Our pediatrician approved us to give her gas drops at every feeding so, when she is having particularly gassy days, we'll give her the gas drops. They do seem to help.
(I love the silly faces I catch every once in a while)
Sleep:
Sleep comes and goes. Right now she is the Queen of 30 minute naps. She seems to have a little internal clock that tells her when 30 minutes it up, it's time to wake up. We're not worried about that right now. She's sleeping better at night. We start our nighttime routine of bath, sleeper, books, songs and white noise at 7pm. I usually take a bath with her and then hand her off to Hops to dry her off and put her in her sleeper. Then one of us will read to her, sing to her, rock her and put her in her crib still groggy, but with a pacifier to help her fall asleep. She wakes up two times a night, sometimes 3. It's usually midnight and 4am or 1am and 5am. I really can't complain. I sort of sadistically enjoy our middle of the night feeding sessions. It's nice to hold my warm, sleepy little girl while she fills her belly and falls asleep on me when she's done.
Likes:
Shoving her hands in her mouth, squeaking and making other sounds from the back of her throat, white noise, pacifiers, doing small amounts of tummy time, music, flashing lights.
Dislikes:
Extended periods of tummy time, being tired, being hungry, losing the pacifier. There really isn't much that is unreasonable that she don't like right now.
It is so much fun being this little girl's mom. I can't remember my life without her and absolutely love having her as part of our family. She really did complete our circle of three.