Just some thoughts I've been putting together. They're too short to each have their own post..
The second night we spent in the hospital was a loooooong night. She was up all night, we didn't know how to soothe her yet (we ended up putting her in the carseat and rocking her) and we were both sleep deprived from the first night. Yup, the first night, we didn't sleep a wink. We were too busy staring at that beautiful face. :)
It took us about 2 weeks to really get into a routine with this parenting thing. You know, just in time for my husband to go back to work. I wish he had taken a month off, so does he.
My husband would be an awesome stay at home Dad. He has been doing the grocery shopping, cleaning the house, doing the laundry, doing the dishes, walking the dogs and everything else that needs to get done. I try to let him sleep as much as possible at night...unless he doesn't have to go to work the next day. If he doesn't have to go to work the next day, he's going to take her during the 4am fussy time.
Megan weighed 7lbs 3oz at birth. At her 5 day check-up, she weighed 6lbs 10oz. We went in for an appointment a week later to check her weight and she was up just an ounce, at 6lbs 11oz. The doctor gave me some suggestions for helping her gain weight while exclusively breast feeding. We went back a few days later and she was down to 6lbs 6oz. At that point, the doctor was worried and decided we had to take another step.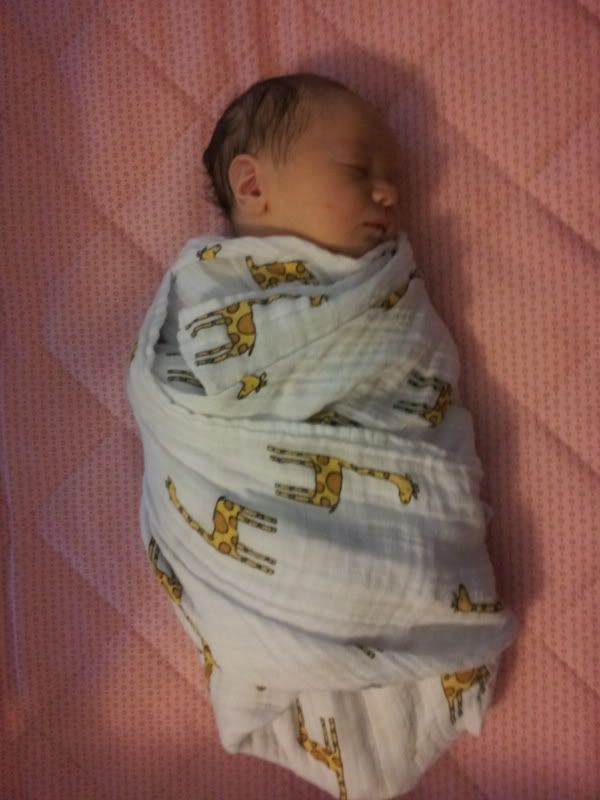 Introducing: formula. Now my routine is breastfeed one side, breastfeed the other side, feed formula, pump. It's a lot of work and it takes about an hour and 15 minutes to get everything done (including burp time). An hour and 15 minutes later, we do it all over again. We went back in today, 3 days after our last visit, and she is up to 6lbs 15oz! We're finally getting her back up to her birth weight, where she should have been after 2 weeks. We go back for our 1 month well-baby visit next Friday. She should be at and above birth weight by then if this keeps up. Finally.
I was very upset to have to add formula. Now that I see it's helping her? I'm totally okay with using it. Am I going to work on weaning from it if I can get my breast milk to work just as well as formula? Yes. I am going to see a lactation consultant on Monday. We will do a pre-feeding and post feeding weigh-in to see what she is getting from me during a normal feeding. She will also watch how she feeds to make sure that she is eating the whole time she's on there instead of just using me as a pacifier (fun!!)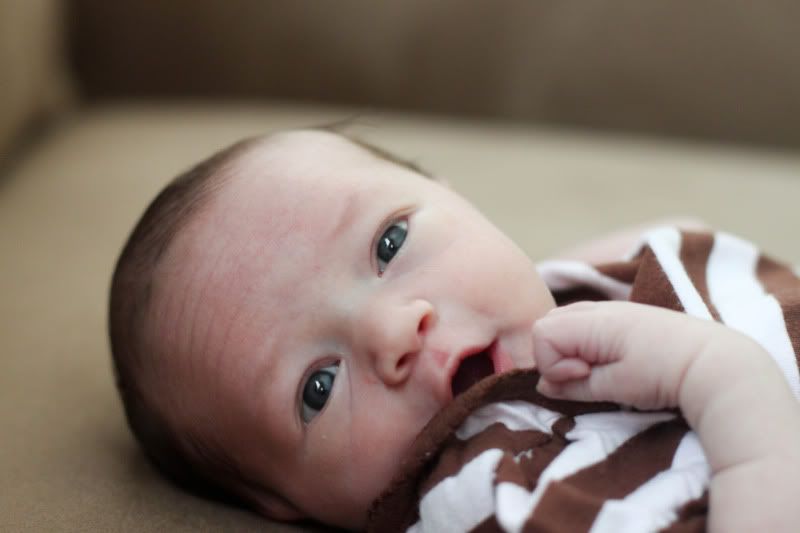 This girl is absolutely the joy of our lives. She is happy and content and (fingers crossed) so far a really good baby. On Wednesday, she will be a month old! I can't believe it. She's already growing up way too fast.
I love being a Mom. It's a lot of work already but it's amazing. I still can't believe we made this little girl!!
Gotta run, it's time for another feeding! (insert barnyard sounds here)