One of our big goals when we were decorating the nursery was to keep it as reasonably priced as possible. There are so many fancy nurseries out there that are absolutely beautiful. I think it makes people think that they MUST make their nursery absolutely gorgeous. You know, to keep up with everyone else. I totally understand if you have the budget to do a fancy nursery and you know what? I love looking at those nurseries, so please keep posting your pictures of them! All of that being said, I am so happy with the nurery we put together on our limited budget. When I walk past it in the morning, the coral wall just glows. It is so beautiful! I can't wait to spend time in there with our little girl.
When you walk in, the wall in front of you has the one window in the room. The valence was the first thing I picked out and set up the entire nursery based upon it. The curtains (yes, I know they are too short, I hung the curtain rod too high. Ooops) are from a flea market. They're a thick cotton material that I may decide to dye someday if I find the right color or if I find the dye I want to use a little cheaper than I found it on the RIT website. The curtain rod is a double rod from Target. The bookshelf came from my craft room and was originally purchased at Michael's.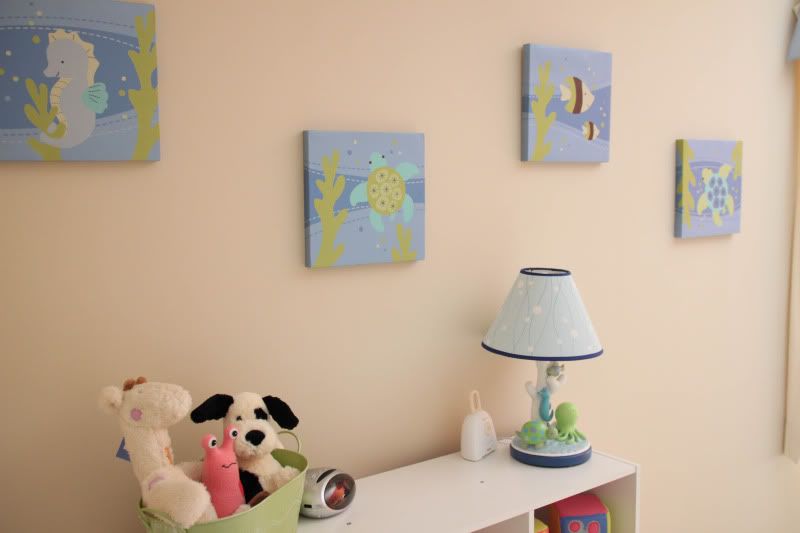 The lamp and wall decorations are a yard sale purchase from before we were even pregnant. Yes, I knew I wanted to do a sea theme back then.The green bucket was sitting in the storage closet forever and the stuffed animals were gifts.
All of the books were gifts. I joined a church about a year ago and joined a ladies group in the fall. Last week they threw me a surprise shower and everyone brought their favorite children's book! I feel so lucky to have so many children's books already.
I took 5 of the paper place mats my friend Lauren made for my
shower
and glued those to the backs of odd squares of the bookshelf. They're not that noticeable but I really wanted to re-use them. You can see them best in the middle hole.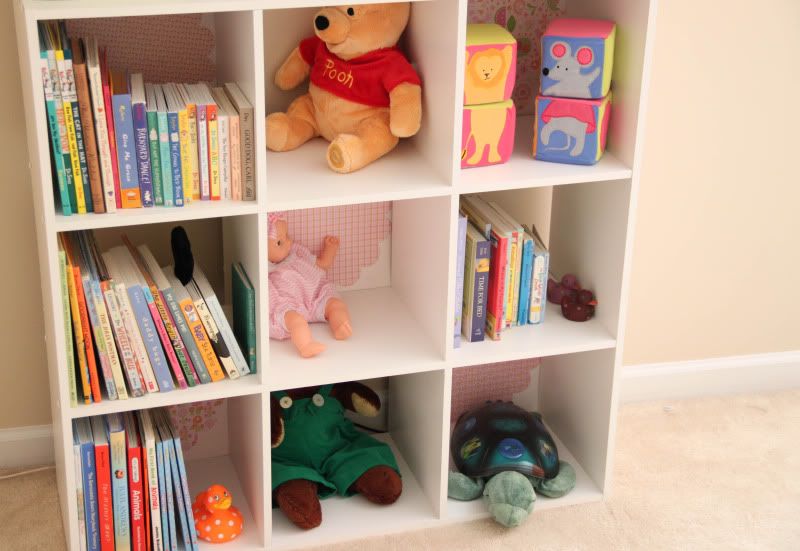 On the opposite wall is the changing table which we purchased at a kids sale early on in my pregnancy. The changing pad and cover were gifts at my shower. The diaper pail was a gift and the wicker basket with the liner came out of our bedroom.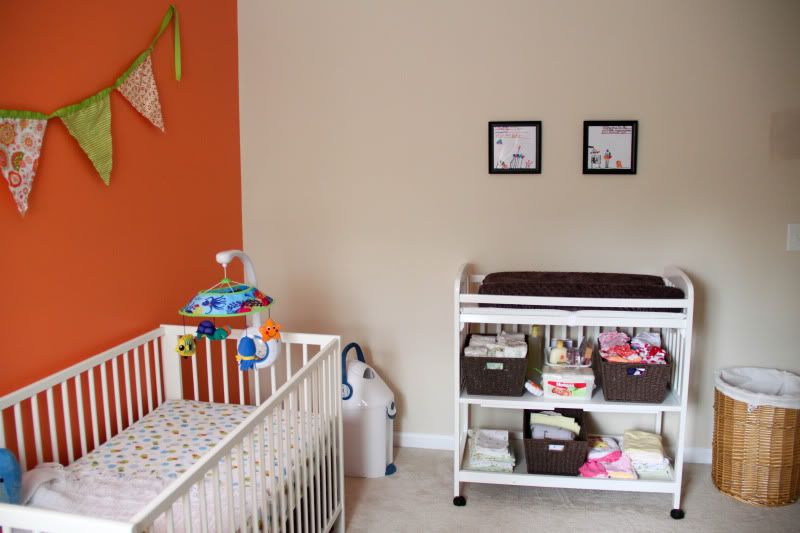 The two pictures hanging over the changing table were drawn by our nephews. We found out later they copied each other on their drawings. Gee, can you tell? I loved them, so I grabbed some frames from my craft room and hung them up. I think I want to paint the frames green but, for now, I'm leaving them as-is (laziness prevails)!!
The changing table consists of three big baskets. One holds diapers, the other holds onesies and small outfits (3 months or under) and the third contains swaddle blankets and swaddles I also have blankets on either side of the bottom basket and towels and washcloths.There's also a smaller white basket that holds toiletries.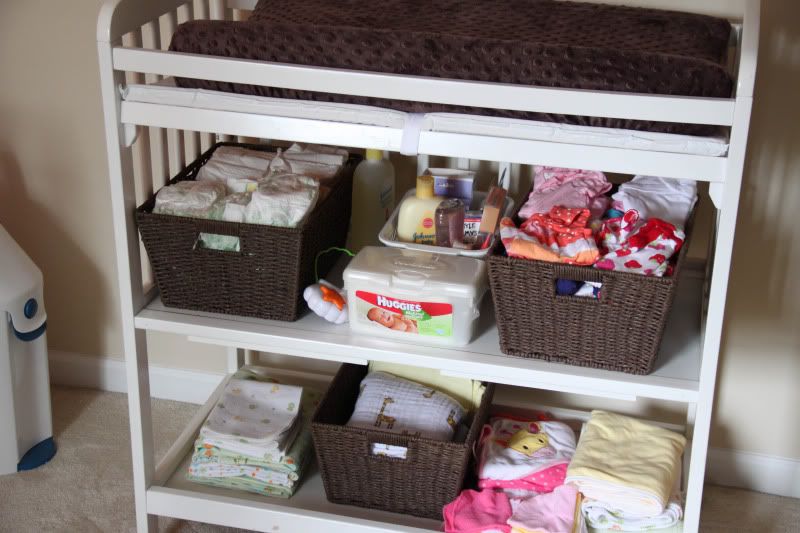 Now, on to the coral wall. We tried to figure out what we wanted to do with the color. Did we want to paint all of the walls coral? (too much) Did we want to paint stripes on the other walls? (Too much work!!) Did we want to paint the other walls a different color? (nope, this looks just fine!) This is the second gallon of paint that I ended up buying for this wall. I swore the other color was perfect. I was wrong. Very wrong, it was so pink! I really wanted an orangey coral color and this is it!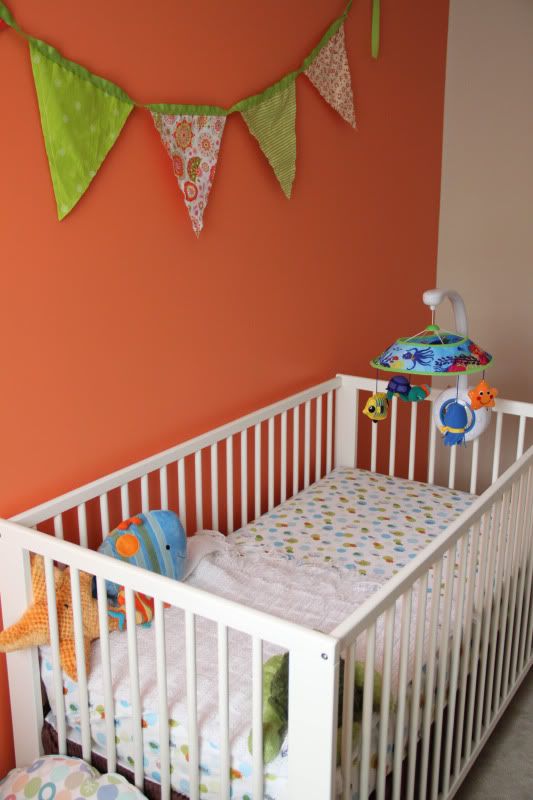 It goes great with the crib bedding, valence and the banner. Speaking of that banner, it was one of my first projects made on my sewing machine. I fell in love with some banners I had seen on Etsy. Unfortunately for that shop owner, she never responded to my questions so, I made one myself!
I found the fabric at a local shop here in town, cut out a pattern on cardstock and then cut out the fabric. I didn't do anything fancy, the stitches are simple and to keep the triangles, I left the edges raw. I found the ribbon at Michaels. I'm really happy with how it turned out and think it looks great against the coral wall.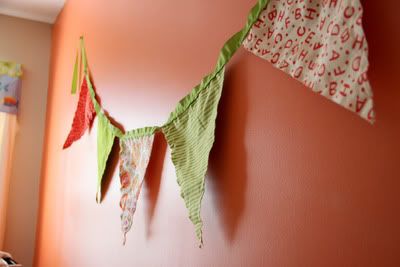 I purchased this mobile specifically to go with the room theme. My one unnecessary splurge.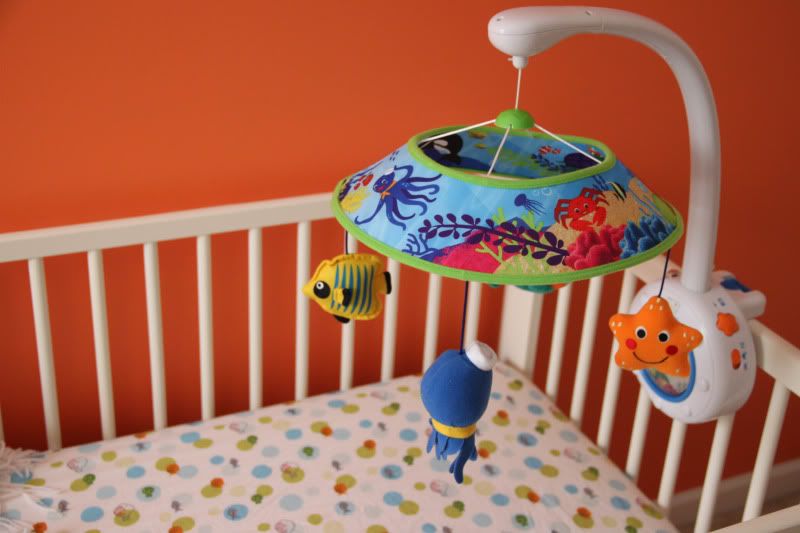 The turtle is one of mine that has been around forever, the fish and starfish were gifts. The blanket in the crib was handmade by my mother-in-law. She knitted that one after realizing the pink one she made for us wasn't going to work out so well. Haha. She doesn't know me that well yet.
You'll notice there is no dresser. I bought a closet organizer that holds all of her folding clothes for now. I found everything fits pretty well into either baskets or the hanging closet organizer when it's tiny. Once she's a little older and ready to move into a bed, then I want to buy a dresser with a matching headboard for her room.
I covered most everything in this spreadsheet below. I know I left a few things out, like paint ($62 for 2 gallons of paint (due to the oops on buying the first gallon). Everything else I missed was either a gift or re-purposed from some other room of our house.
I didn't add the blanket, but it was a gift, as well. It's the multi-dot blanket from Carter's. We used a gift card from Hops' co-workers to buy it.
I absolutely love how it turned out and like I said above, cannot wait to spend lots and lots of time in this room.