In late April, my friends Lauren, Bonnie and Christy, along with my Mom, put together such a fun baby shower for BGH and me. We held it at my house so I wouldn't have to go anywhere. It sounded like a GREAT idea at the time until I realized I was going to have to clean my entire house because of course people were going to want to see the nursery.
Enter: Lauren.
This girl is an absolute saint. On top of having to clean up the house, I wasn't feeling great that week, leading into the weekend. I was just tired and when I got home from work, all I wanted to do was sleep! Lauren came in Thursday night and I took Friday off so we could get some stuff done. We started work first thing in the morning by dropping the dogs off at the sitter. Then we headed home and scrubbed. We did everything from chair rails to blinds to floors. Lauren even got down on her hands and knees and scrubbed my kitchen floor. Yeah, you can say she's a good friend. Dan spent Friday cleaning up the outside - mowing, mulching, moving things, etc. By Friday night at 8pm, we were done and I was exhausted. Mom arrived around that time. I spent an hour with them and finally went to bed.
Saturday morning, we got up and I showed Mom and Lauren where everything they might need was. At 9am, I was shooed upstairs and sequestered there until I was given the okay to come down at 11, when the party started. The girls did such an amazing job decorating the house (the whole reason why I wasn't allowed to come downstairs for two hours). Lauren made most of the paper decorations using her Cricut. How CUTE is all of this??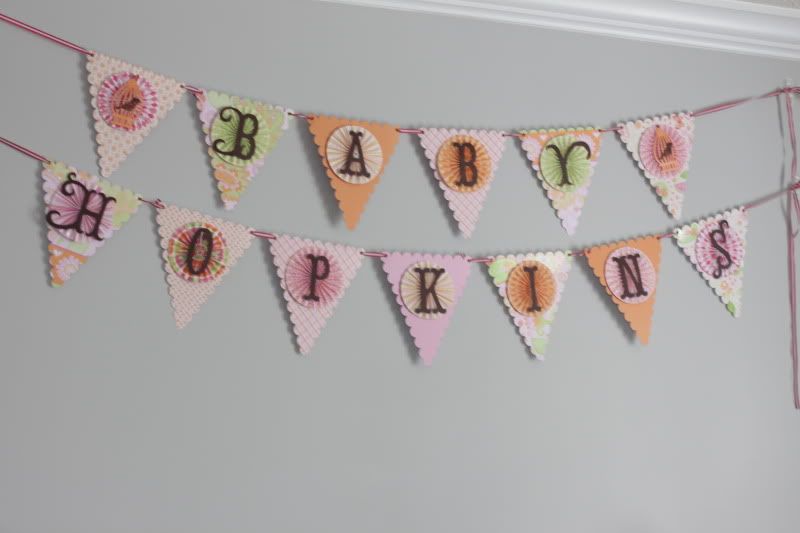 Coffee Table Decorations:
More of those awesome hanging decorations:
The food was fantastic, as well. Check out this cake. They really nailed the colors that they knew I would love to see at the shower. Orange, pink and white. Perfect! The cake was from Whole Foods and I have to say, it was the best store-bought cake I've ever had. No fondant in sight!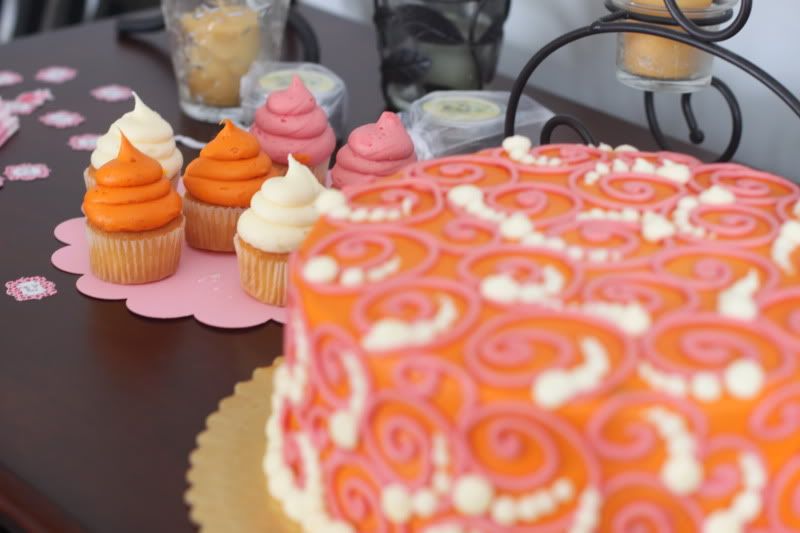 See the paper palcemat under the fruit? I re-used 5 of those in the nursery. That blog post on the FINALLY finished nursery is ready to go sometime next week!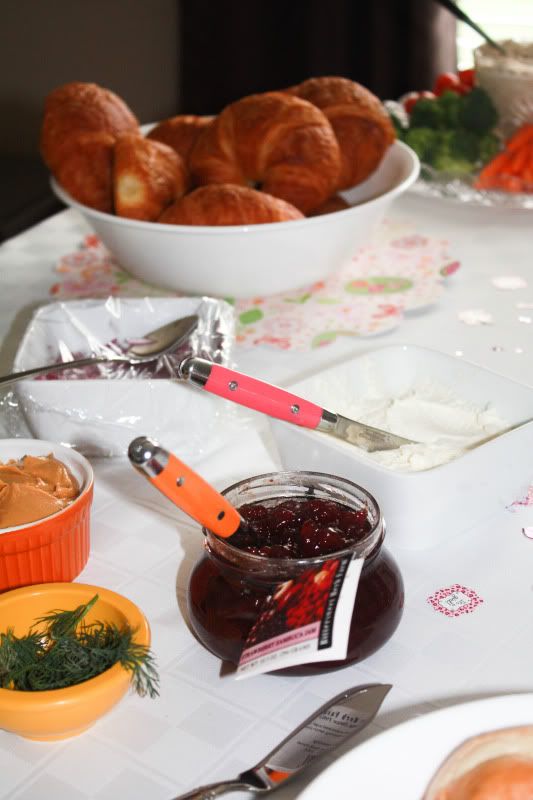 After we had our fill of food (or continued eating) we started in on the shower activity. Thankfully, my suggestion of no gross shower games was approved. Instead, the girls and my Mom came up with the idea of doing a shower activity. Mom brought a ton of different fabrics, scissors, iron-on paper and templates. She also bought a stack of bibs, onesies and burp cloths.
Everyone took a template that they wanted to iron onto their item of choice and cut out fabric to match it. Then, we went to the ironing board to iron that image onto the onesie, bib or burp cloth. There were also permanent markers and stencils for drawing if you weren't into the ironing bit.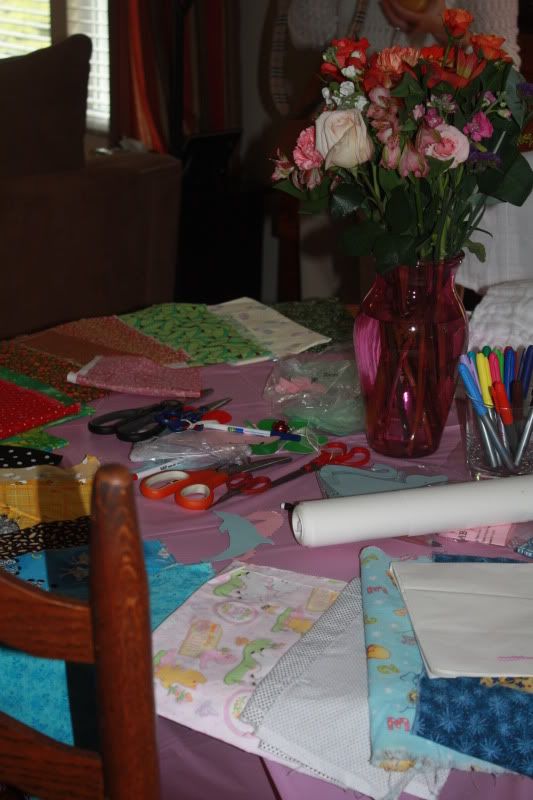 They came out absolutely great! My sister in law took everything home with her to sew the images on so they would last longer. How freaking awesome is that?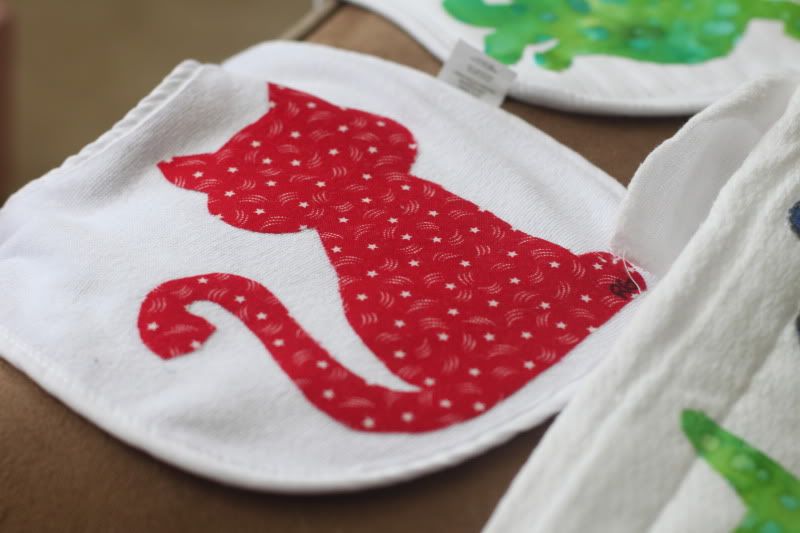 Of course there were presents (boring pictures of me making funny faces as I thank people for stuff) and then we said goodbye. I could not have had a better time at the shower celebrating the birth of our little girl. I feel so lucky to have such a great group of women surrounding me at this really special time.