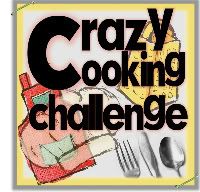 I decided to join in the Crazy Cooking Challenge this month for, what else, but my favorite thing in the whole world: Chocolate Chip Cookies!!
Yes, that's a pretzel hanging out in that cookie center.
The goal is to find a recipe that you want to recreate from another blogger. The recipe can be from a website or cookbook, but it has to have been cooked by another blogger. The purpose of this is to promote other bloggers and of course, cook (and eat) chocolate chip cookies. The OTHER purpose is to VOTE for your favorite cookie recipe! Take a look through the different cookie recipes linked up at the bottom of this post and vote for your favorite chocolate chip cookie recipe!
I went through my starred google reader items and I'll tell you what, I star a lot of chocolate chip cookie recipes! I have never used another blogger's chocolate chip cookie recipe before. I went through a whole bunch of recipes before I finally found one that looked like something I would enjoy from
Kate From Scratch
. The recipe was standard and simple, just the way I like my cookies. I don't want to make them gluten free, with whole wheat flour or with carob chips instead of chocolate chips. I have no problem with that but I want real, old fashioned chocolate chip cookies. I added a few treats to the cookies but kept Kate's recipe the same. It's amazing how you can use the same recipe as someone else and they turn out so differently. Kate, if you're reading this, can you tell me how you made your cookies so flat? Mine got all puffy and I was really hoping for flat cookies this time after seeing your pictures!
Chocolate Chip Cookies by Kate From Scratch
2 1/4 cups all-purpose flour
1 teaspoon baking soda
1 teaspoon salt
1 cup (2 sticks) butter, melted and cooled to room temperature
3/4 cup granulated sugar
3/4 cup packed brown sugar
1 teaspoon vanilla extract
2 large eggs
2 cups (12-oz. package) chocolate chips
*Optional: 1 cup chopped nuts, peanut butter chips, marshmallows and graham crackers, candy pieces, and …did I mention… peanut butter chips? So good (my personal favorite).
::I added 3/4 cup of pretzel sticks I smashed in a ziplock bag and 3/4 cup heath bar pieces::
Directions
PREHEAT oven to 375° F. Line baking pans with parchment paper for less clean-up.
Sift together the following dry ingredients: flour, baking soda and salt in small bowl.
Cream together the butter, granulated sugar, brown sugar and vanilla extract in large mixer bowl.
Add eggs, one at a time, beating well after each addition.
Gradually beat in flour mixture until completely incorporated and then fold in the chocolate chips.
Drop by rounded tablespoon onto parchment lined (or ungreased) baking sheets.
Bake in preheated oven for exactly ten minutes, (in my experience), or until golden brown.
Cool on baking sheets for 2 minutes then move cookies to wire racks to cool completely.
The pretzels really gave the cookies a little extra oomph. I had my taste-tester try one for me and didn't tell him what was in them. He made good noises while eating it and then gave me the, "what's up with this" look. I told him there were pretzels in them and instantly, he was a really happy guy. I found that the heath bar pieces got a little lost. When you get a taste of one, it's good, though so I may just add more next time!
I would definitely suggest you make this cookie and again - don't forget to look at the other recipes on the blog hop. There are over 100 of us participating this time so there are plenty to look through!